"The Aventine Hill", Rome, Italy

a lovely and peaceful garden on the top of Rome's fabled 7 hills, the view overlooks the vatican city.

llcofer.com  Lalita Lyon Cofer fine art prints

Images of Italy, Greece

& the  Mediterranean...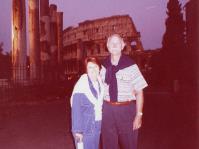 Visiting the Roman Colloseum and the Forum makes for a lovely evening.

No small prints are available.

Signed, Limited Edition archival print, image size 11x14 inches

Includes free US shipping.

Please Note: Global shipping is additional (please email the artist)

shipped U.S.  $59.00

your html snippet