llcofer.com  Lalita Lyon Cofer fine art prints

Images of Italy, Greece

& the  Mediterranean...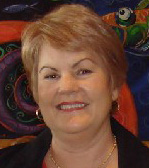 .I started painting seriously and developing my own style about 25 years ago.  I had studied art as a young girl from my very talented mother, Mimi Lyon; she generously shared her art materials and coaching throughout her life. Since our family worked overseas, I was fortunate to have grown up surrounded by the beautiful history and art of France, Italy and the Middle East, and as I grew and matured, I absorbed, and fed on the beauty and culture of my surroundings

I studied art and history at the University of Miami but at that time I was more interested in three dimensional sculptural works.  As time passed I found I needed to express myself in other ways, and I developed my current mixed media method on my own, combining the 2nd and 3rd dimensions on canvas.

I found I loved color and I judged everything in my life from the context of color and my emotional response to it.  My family claim I am a "Tetrochromate", from a gene anomaly which allows me to see colors most people are not aware of and I feel color as emotion and emotion as color.

I also found that unique locales or places spoke to me with their own mystique, enchantment, history and romance; I was compelled to express the feelings and images that were most memorable to me and to recreate those images on canvas became undeniable.  Images like little snapsots in my memory eventually move into my conscious and I must, I am absolutely driven to paint those cerebral snapsots.

I begin my work with a pen and ink sketch, then I add color.  Once the painting of the image is complete,I deconstruct the image by ripping out areas.  I reasemble the painting over a canvas and sometimes I add swaths of colored hand stained papers to achieved a slightly disjointed or kaleidoscopic effect.

I hope you enjoy the images I created with this unique medium I have developed on my own and refined over the years. 

If you have a question please use the email link to contact me.